Several Dozen Jihadists, Including Commander, Killed In Mali – UN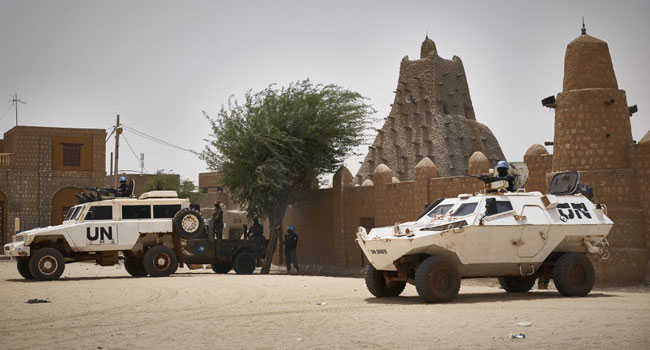 PHOTO USED TO ILLUSTRATE THE STORY: United Nations vehicles patrol in front of the mosque Sankore in Timbuktu on March 31, 2021. 
More than 40 jihadists, including a senior commander, were killed last week after they attacked United Nations peacekeepers in northern Mali, the UN force MINUSMA said on Monday.
A UN source previously said about 20 of around 100 assailants were killed in a three-hour counter-attack after they raided a camp of Chadian peacekeepers, leaving four troops dead.
But on Monday, MINUSMA chief Mahamat Saleh Annadif said a search of the battlefield on Sunday and Monday showed that the death toll among the attackers was roughly twice this number.
"As of today, we have counted more than 40 dead terrorists, including a right-hand man to Iyad Ag Ghaly, by the name of Abdallaye Ag Albaka," Annadif told AFP.
Ag Ghaly, a veteran jihadist, is the leader of the shadowy Group to Support Islam and Muslims (GSIM) in…